Technology has brought about expansion and growth in all spheres of life, and the recruitment of talent is no exception. Technology is helping to improve the recruiting industry by simplifying and automating its processes. A fact we see in the survey by Jobvite, is that 36% of recruiters believe AI makes their job better. Read the article hidden talents unlocked.
Two breakthroughs that have evolved because of technology are the ATS (Applicant Tracking System) or AMS (Applicant Management System) and AI (Artificial Intelligence) for recruiting. Both have made sourcing and screening talents way easier. They have also helped to automate repetitive processes that consume valuable time.
In this article, we will discuss what the applicant tracking/applicant management system is. Why and how recruiters use them, and their limitations. We will also highlight artificial intelligence in talent sourcing and how it is changing the recruitment industry.
What is an Applicant Tracking System – ATS?
An Applicant Tracking management system is an HR software that automates the hiring processes. A good example is looking at an automobile. Before inverting the automatic car, we had manual cars. The manual car needed you to pay attention to the brake, accelerator, and clutch while driving. An automatic vehicle takes care of the gears for you and allows you to focus primarily on steering the automobile. The ATS functions in the same way as an automatic car.
ATS automates processes like sourcing and screening resumes, messaging other employees and job seekers, and importing and exporting data. So you can concentrate on more value-adding activities. 
On average, HR managers lose 14 hours on tasks that can be automated using ATS. So it has its value.
This automating function has made ATS HR software like Oracle Taleo a must-use by recruiters, with 75% of them admitting to using an applicant tracking system. 
(Look for a suitable image or graph)


Why and How Do Companies Use Applicant Tracking Systems – ATS?
Recruiters use the ATS systems for simplifying and speeding up the recruitment process. The reason 98.2% of Fortune 500 companies use them. 
Recruiters and HR personnel use them for various reasons. Some of the pressing reasons are:
Job posting: Some ATS HR software like GreenHouse integrates well with job board sites, making posting job ads on those sites easy and done with a click.
Resume Screening: ATS software helps speed up the screening process by using keywords or other parameters set by the recruiter. There are potential drawbacks that we will discuss later in the article. 
Communication with candidates and other recruiters: An Applicant Tracking System application like Pinpoint helps improve candidate experience via their chat software.
Recruiters have many other reasons they use an ATS tool and how they will use it.
What are the key limitations of the Applicant Tracking Systems – ATS?
Sadly, many of the reasons HR personnel or a recruiter buys an ATS system are based on what the tool ought to do and not necessarily what it does. Before we look at some limitations of ATS, let's see some real-world statistics regarding the use of ATS:
Did you know, according to a Jibe survey, 80% of candidates who search for jobs and take applications online say the process frustrates them? This statistic is relevant because 94% of recruiters admit to using ATS software in their hiring process.
 
According to Forbes, 75% of qualified candidates get rejected by ATS because of incorrect CV formatting. As part of the process, ATS performs resume parsing which brings massive challenges are accuracy issues.
 
According to ERE Media, a firm found out that the ATS software marked 3 of their top 5 engineers resumes as irrelevant and screened them out of the process.
 
70% of online applicants feel that the recruitment process should be five steps or fewer. 40% of recruiters share the same thoughts.
 
A longer process has meant recruiters lose 60% of candidates, most of them the cream of the crop of applicants.
 
40% of recruiters who use ATS in recruiting do not test the system on their site before launching it.
 
A firm created the ideal resume for the perfect candidate and passed it through an ATS system. It scored 43% relevance because it misread the resume.
Some of these findings question the advantages the applicant tracking system brings to recruiters. It also highlights how difficult it is to implement the ATS in practice. With the stats discussed, some limitations of the ATS solution in recruitment are:
Candidate experience: Candidate experience is becoming more of a theme. If most candidates do not see the impact of the ATS system in the recruiting process (as seen in the survey), then it is failing to live up to its promise.
Reading resume formats: ATS is a program, and therefore there are resume formats it cannot read. It disregards formats that it cannot read even if the candidate is qualified.
Keyword placement: ATS are programmed to look for keywords and specific parameters. If a resume doesn't have those keywords, it automatically disqualifies it. This drawback means unqualified candidates with knowledge of resume formats and keywords can beat the Applicant Tracking system.
How much does an Applicant Tracking System Cost: The previous limitations are focused on recruiters losing out on talents. A reason 66% of managers come to regret their hiring decisions. But one of the biggest hurdles to the organisation is cost. Popular Applicant Tracking System applications like PeopleFluent and UKG cost companies between $25,000-$50,000 annually. This is too costly, especially for small businesses.
Market leader Oracle Taleo and other popular ATS like CornerstoneOnDemand Recruiting, Eightfold Talent Acquisition, GreenHouse, and iCIMS Recruiting will cost your company between $10,000-$25,000. The cheapest in the market can easily cost $5,000. The purchasing cost is only one of many costs that the recruiter will incur. They will also have to pay for the implementation, which rarely goes as intended.
A 2017 study shows only 32% of ATS implementations go as planned, meaning 78% will cost more and take more time to implement. There is also the adaptive period to the new system. To unlearn old workflow systems and relearn new ones will cost the company in terms of productivity for that period.
The cons, especially the costs, show how ATS has a lot to improve on. Before we continue, we will quickly look at a survey by HR.com on some real-life problems employers face while using ATS. 
40% of recruiters say the features are limited and not meeting their needs, and 24% say their ATS does not have good functionality or reporting. 22% say they can't communicate effectively with candidates, 20% say it gave poor candidate experience, and 17% say it had bugs.
This survey highlights the many problems with the ATS. Like every other technology, an applicant tracking system isn't perfect. But what if there is a technology that can source and screen better compared to ATS? What if it makes the process less strenuous? That technology is Artificial Intelligence (AI).
What is Artificial Intelligence in recruiting?
Artificial intelligence is when a machine shows intelligence. The key to AI is machine learning. A machine can learn new behaviors or patterns based on a large amount of data fed to it.
The goal is to enable it to make intelligent decisions with little to no human input. If we use the car example as with ATS, then AI will be a self-driving car. Like the one, Google and Tesla are currently testing out.
What is the difference between ATS and AI?
A simple way to distinguish between the two is to see ATS recruiting software as an automated machine that helps to simplify recruiting processes – while AI excels at learning from a large data set, reading a pattern, and then responding to a recruitment situation.
AI is automation plus machine learning.
The reason some ATS manufacturers are integrating AI into their recruiting software is to make them more effective. Still, they have a long way to go in integrating recruitment software that uses AI in sourcing and matching talents with companies. It's a welcomed development but a painfully slow one.
What are the Benefits of Using AI in Recruiting?
Artificial intelligence provides some of the same benefits as automating the recruitment process and more. Some of the standout benefits are: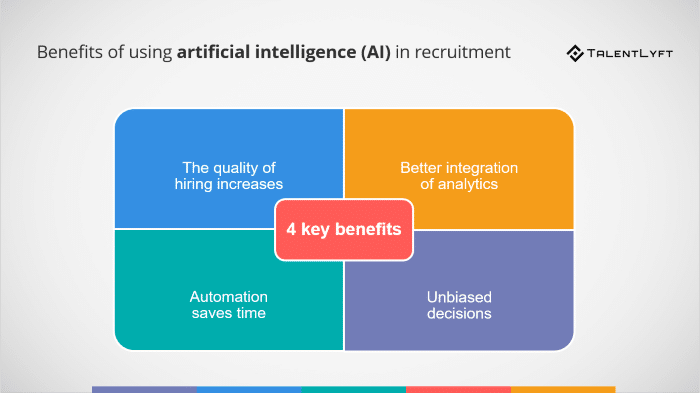 Improve the Ability to Identify Competent Candidates
It is crucial to know that most recruiters prefer to use AI for sourcing and screening candidates. But are less confident with interviewing and engaging candidates, as shown in the diagram below.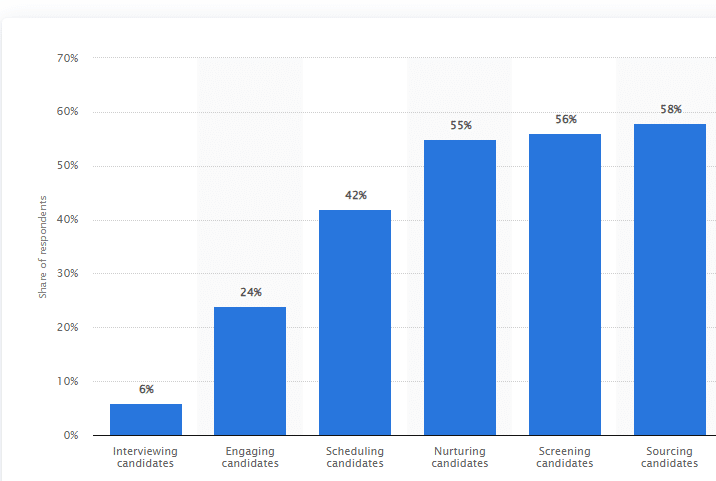 The caution is likely because artificial intelligence isn't at the point where it can have human-like interactions. This logic also applies to the Applicant Tracking System since automation is a feature of machine learning. The advantage AI has here is it has access to a vast amount of data to search through based on your criteria. The good news is, it will also include passive qualified candidates who are not actively looking for a job but may relish a job opportunity if it presents itself.
Quickens the Hire Time
According to a study by Oracle, most recruiters (73%) believe that AI will improve recruitment time, while 64% want AI to sift through resumes to save time. Glassdoor revealed most candidates apply to 10 jobs at once, and an average of 250 candidates apply for a corporate job opening. Going through all of that in a limited time and attempting not to lose qualified candidates in the process has seen AI recruiting software as a viable solution.
Automated Assessment
Assessments are a way of weeding out some of the unqualified candidates and, this involves the use of various tests. Cognition and psychometric test are already automated. AI can provide further information with the results. Instead of displaying only candidate scores, it can produce a report or a breakdown of answers for the recruiter to see.
It can also send an automatic email to those that didn't meet the company's job requirements. This way, the recruiter can pay attention to job and skill-related assessments that test the candidate's competence.
Talent Matching
Matching the right talent to the employer is one of the challenging aspects of hiring. Artificial intelligence has helped to bridge this gap. It's assessments and analytical skills can help match the persona the recruiter is searching for to their talent. And with talent shortages being a problem, AI can help uncover the passive talents in the industry.
Help with Predictive Analysis
Machine learning is the entire essence of artificial intelligence. The ability for a machine to learn the meaning of "quality hire" is now possible. But the AI will need a lot of data to work with, lots of data on what the companies believe to be a quality hire.
The aim is to empower artificial intelligence to hire people based solely on their merits and not on their social class, gender, or ethnicity. Like we have struggled with for a long time in the recruitment industry.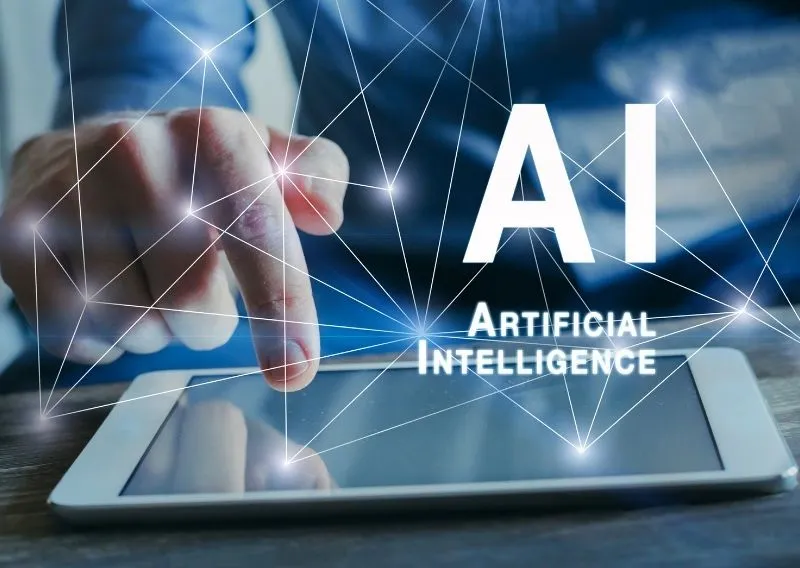 Potential downsides of AI according to recruiters and hiring managers
Two primary problems recruiters and hiring managers specify are, AI will dehumanise the recruitment process, and artificial intelligence can also learn bias.
Organisations are all about efficiency and effectiveness. They want a low hire-to-cost ratio and also hire a person who won't turn out to be a bad hire costing them more money. To curb the problem, companies will have to balance AI in recruiting and the human aspects. Sure, AI can't perform all the processes, but the ones it can handle let it do that to improve the bottom line.
A test by Amazon to recruit candidates showed a bias towards gender when sourcing out and ranking resumes. They found out when they tried to hire for tech-related jobs – the AI was favoring males. AI mirrored what was going on in the industry over the past ten years.
The artificial intelligence learned that male candidates were preferable to females and so chose them over their counterparts. This situation will not be an issue in the long run.
The industry and many others are working on being fair with gender and diversity. Recruiters and employers are making efforts to encourage diverse employment.
The downsides of AI are genuine concerns, but it also shows the desire to make this work among employers.
Talentprise AI: unparalleled Features vs Applicant Tracking System
A study by CareerBuilder showed that every 3 in 4 employers (that is 75%) regret hiring a staff. And 2 out of 3 employees (that is 66%) regretted accepting employment as they were not a good fit.
Talentprise invented the AI headhunter designed to document the persona (expertise, skills, years of experience, degree, etc.) the recruiter desires and uses this to best match with its thousands of qualified and active talents on its ever-growing platform.
The AI headhunter ranks the pairs according to how well they fit the recruiter's detailed persona including job description and soft skills. The process is fully automated and bias-free. It also shows a graph and a detailed breakdown of talents. It also shows you how the talent ranks to the average talent in that field. Talentprise does more than bring out a CV like Applicant Tracking System.
As an Artificial Intelligence, it brings valuable insight so the recruiter can make an informed decision.
How to get started in Talentprise as an Enterprise user (i.e., recruiter)?
Step 1 Sign up and complete your company profile.
Step 2 Complete a form telling Talentprise your persona.
Step 3 Create a headhunter and pick your perfect talent.
For more details, please visit the Enterprise User Guide.
In conclusion, artificial intelligence is still developing and will improve with time. There is evidence that both recruiters and employers want it to get better, and so it will. An Applicant Tracking System has helpful features to assist with recruiting, but its limitations are apparent.
AI, on the other hand, offers a solution to this limitation. It bridges the gap and gives value to recruiters and talents alike. The next generation of AI applications is expected to improve and provide more value add for the recruitment industry.
Sign up for a Talentprise account today and get immediate access to globally qualified and active candidates. Build your first Al headhunter and run talent sourcing in autopilot mode.