Some recruiters believe that they may not get qualified candidates if they won't purchase the paid promotions; this is a misconception that deprives recruiters of harnessing the exceptional benefits of free job boards. Free job postings should be a part of your hiring process. Popular job posting sites offer free job postings to advertise your job. Paid packages let you enjoy greater visibility but it does not mean you won't get qualified candidates for your company.
Talentprise is an AI-powered job and candidate search platform. It lets recruiters post jobs for free and find the right talent in no time. If you follow the right procedure to post jobs for free, you can earn a significant return on your zero-dollar investment. Today, we will discuss the essential steps needed to post an effective job post without spending a penny.
What are the essential steps to post jobs?
Here are the 4 steps to post a job on any online platform:
1) Sign up.
2) Add key details.
3) Add job description.
4) Review and post the job.
Step 1: Sign Up using Your Enterprise Email
The first step in posting a free job on any job board is to create a free account. Job boards require your company credentials to help you sign up. This will unlock a recruiter's dashboard where a large pool of candidates awaits your open position.
On Talentprise, signing up to post a job is a seamless process. To get started, you need to visit Talentprise, navigate to the top-right corner of the user dashboard, and click "Recruiters". This will take you to a recruiter's board where you will have to click on "Post a Job". To create a free account on Talentprise, the system will require an Enterprise sign-up where you need to register via your company's email address and password.
Step 2: Input Key Job Details
Your job post is your first interaction with potential candidates. Therefore, details about your company and the job should be carefully inserted when you post jobs for free. After sign-up, you will be prompted to the job details template where you need to add critical details regarding your open position.
For instance, the Talentrpise recruiter's board will ask you to add a job title, select job type (On-site/Remote/Hybrid), employment type (part-time, full-time, internship, etc.), location, attendance, qualifiers, etc. While adding a job title, make sure to add relevant keywords that job seekers mostly use to search for a job.
Step 3: Add Job Description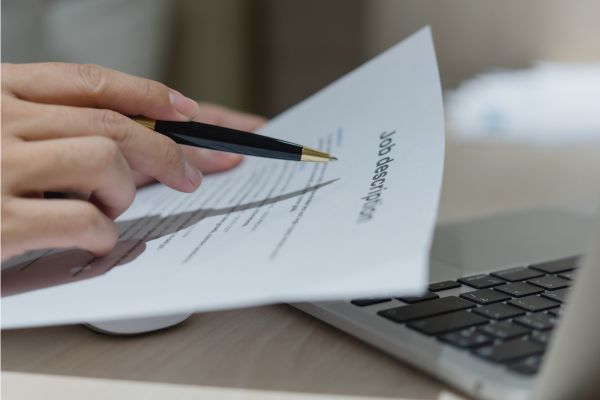 Next, you need to add a comprehensive job description featuring the roles, responsibilities, skills, and required experience. A job description is a critical part of your job advertisement as Talentprise analyzes it and connects it with the best-matching candidates. Therefore, your job description should clearly demonstrate your ideal candidate persona so the powerful AI tool of Talentprise can fetch the right talent as quickly as possible.
Job descriptions should be written in simple language and should be easily readable. You can use bullet points to describe the jobs to boost readability. Though your job description should be concise, it must contain all the information that your potential candidate might possibly seek.
An effective job description might contain the following;
Introduce your business in the opening paragraph
Overview of roles and responsibilities
Minimum qualification required
Preferred Qualifications
Application requirements such as a portfolio or a cover letter
Benefits and remuneration package
Legal statement work authorization or an equal opportunity to apply.
Your job description will connect professional job seekers with your company so you should be as engaging and informative as possible. The more information candidates get while applying for your open position, the more likely you will find the most qualified candidates.
Step 4: Review and Post your Job
Finally, review your job posting and post jobs for free on your selected job board. On Talentprise, your job post will be fully under your control. You can pause, resume, or edit it whenever you want. Unlike other job posting sites, Talentprise won't deliver your job post to everyone on the platform. It will analyze your post and encourage only the most suitable candidates to apply, based on your job requirements. This will omit the unnecessary hassle of dealing with irrelevant candidates, quickening your hiring process.
Benefits of Posting a Free Job Post
When there is fierce competition out there, is it effective to post jobs on free job boards? Free job boards contain a large pool of candidates, so your posts will reach a wider audience. These free job boards are also effective if you want to post multiple jobs and reach candidates from different parts of the country. Moreover, you can save your budget and utilize it in further steps of recruitment.
One main goal of recruiters is to reduce the time in filling the talent pipeline. Talentprise lets you post job ads for free and saves your time by sending your job posts to qualified candidates only. Within a matter of seconds, you can post your job and reach out to a stream of pre-assessed qualified candidates on Talentrise.
Moreover, free job posting sites, such as Talentprise, etc. are household names and well-established companies are leveraging them to fill their open positions. Therefore, harnessing the effective capability of Talentrise to selectively handpick the top talent for your company will positively influence your hiring process.
Final Words
AI-powered recruitment is getting mainstream as it quickens the recruitment process by finding the right talent in just a matter of seconds. Talentprise boasts a large pool of talent and leverages artificial intelligence to match candidates that meet your ideal persona. When you post jobs for free on Talentprise, it uses algorithms to find candidates based on their skills, experience, and interests.
To top it off, Talentprise lets you unlock this large talent pool by offering free job postings. To post jobs for free on a job board, you need to register via your Enterprise account and add necessary job details, such as job title, job location, work type, etc. The job description is the most critical part of posting a job, so it should contain input from the hiring team, leader, and existing employees to create one that attracts every qualified candidate. Most importantly, you should monitor your job posts and make necessary edits, considering the performance of your job post.
About Talentprise
So you are looking to recruit highly skilled candidates? Sign up today and post your jobs for free with Talentprise's AI-powered job posting advanced feature.