Job Outlook – Let's face it, 2020 (and most of 2021) was extraordinary. The impact of the pandemic has changed the world of recruitment and jobs as we know it. With high unemployment levels coupled with talent shortages, along with the greatest levels of staff resignations ever recorded, it's a peculiar set of new challenges we face.
Here are the top 7 job outlook trends in post-pandemic recruitment today and our suggestions to help you rise to the challenge.
Job Outlook #1: The Covid Jobs Paradox
For most of 2021, employers have experienced talent shortages despite high levels of unemployment. This has become known as the "COVID paradox".
US news channel CNBC reports that there are 1million more job vacancies than people looking for work.
This could be due to the ongoing effects of the pandemic. New variants, people shielding and the maternal workforce still being affected by childcare issues could be some reasons for the high level of vacancies.
There also seems to be a mismatch between the types of jobs available and the types of job seekers are looking for. The so-called 'Great Resignation' in spring 2021, saw a record-breaking 4 million Americans quit their job in April and similar levels again in June. Microsoft reports that 41% of employees are considering leaving their job in 2021.
LinkedIn explains the reasons for this mass exodus including dissatisfaction, career development, a desire for flexibility and pay aspirations.
It's important to listen to staff to find out how to reduce employee turnover. Understanding what employees want in their careers and offering this to new candidates will make your jobs competitive.
Job Outlook #2: The competition for talent is increasing
As the war for talent heats back up again toward the end of 2021, competition will be fierce. With more jobs than job seekers, the balance of power lies with candidates. Meaning employers will need to work harder to attract the top talent.
Human Resources Today suggest 10 ways to recruit more effectively against the competition. This includes making it easy to apply for your jobs and building a talent pool. A positive candidate experience is essential to attract and close the deal on the best talent. AI in recruitment can help you to achieve success in all of these strategies.
Job Outlook #3: Remote working is here to stay
Great Work-Life report that 90% of Americans would like work-from-home jobs. And remote workers are the fastest-growing workforce. Offering jobs from home will be a key benefit to entice candidates. Keeping this option available will help you to engage a global talent pool.
Remote jobs are an opportunity to widen your candidate pool and access cost-effective global talent. Offering remote work can result in a 20% increase in the geographical diversity of your applicants. Googling 'jobs near me' will become a thing of the past when the global jobs market is on your doorstep.
It is worth mentioning that employers need to embrace the work-from-home increasing trend and ensure employees are well equipped with appropriate workspace at home to keep them healthy and productive.
Job Outlook #4: Artificial Intelligence (AI) in Recruitment continues to grow
AI fast-growing and exciting development in recruitment. Helping recruiters to efficiently source, assess and engage with candidates. Enhancing the candidate experience and reducing recruitment bias, AI will help recruiters through these challenging times.
Job Outlook #5: Virtual Recruiting will continue
With an increase in the use of AI in recruitment and remote jobs, it makes sense that virtual recruiting is also here to stay.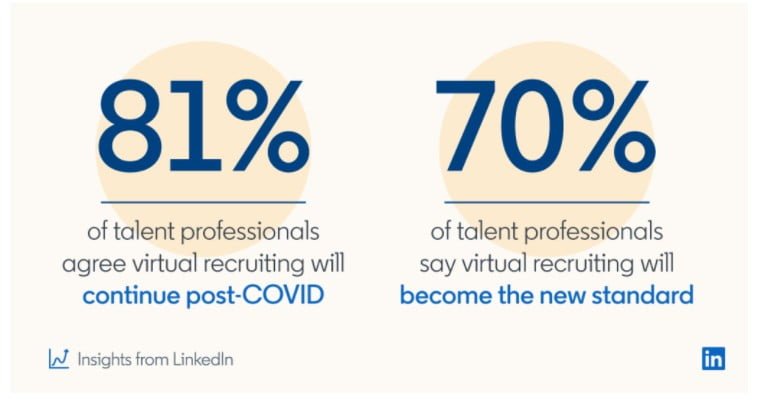 Video interviews are set to become the norm so adapt your recruitment processes accordingly. Indeed offer some handy tips for how to conduct a professional virtual interview.
Job Trend #6: Internal Job mobility will become key to success
LinkedIn predicts one of the biggest post-pandemic recruitment/ job outlook trends is the rise of internal mobility. Rather than trying to recruit to job from an external competitive market, look inward to grow your own talent.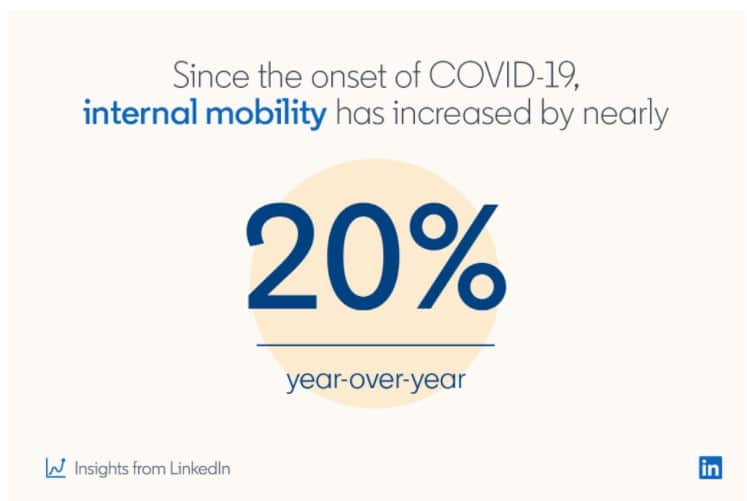 Internal hiring is faster and more cost-effective than external recruitment. LinkedIn shows employees stay 41% longer at companies that hire internally.
Recruitment software can be used to manage an active pool of internal talent. And competency assessment through AI can identify development needs. Thanks to the unique privacy settings of Talentprise, both recruiters and candidates can select who sees their details. For example, if a talent user is only interested in internal mobility, they can select to be visible to recruiters from their current employer only. Employees can be assured of data privacy and recruiters can access their internal talent and external talent pools in one handy place.
Job Trend #7: Growth of the contingent jobs
What are contingent jobs?
Temporary, freelance or contract work has increased during the pandemic. 80% of employers plan to increase their use of the contingent workforce in 2021.
The use of a contingent workforce allows employers to access skills they do not have in-house to cost-effectively resource time-limited projects. Flexible workers can be the quick fix needed to help restructures, run projects or respond to busy periods.
Flexible work also means those who quit their job to look for a new direction or more pay can use temporary work to try out a new industry, gain new skills or meet financial needs whilst searching for permanent work. It's a win-win situation.
AI can be used to source and manage a wider contingent workforce. Building a talent pool to help you to respond quickly and effectively to demands.
There's no doubt recruiters have many challenges ahead as we adapt to these new job outlook trends. Record-breaking changes in workforce changes and expectations of candidates mean thinking differently to remain competitive. Taking advantage of new developments in AI, which cope with the latest job outlook trends, can keep you ahead of the game.
Talentprise uses cutting-edge AI technology to provide a unique talent management solution. You can proactively manage a large volume of candidates, whether traditional applicants, an internal talent pool or a contingent workforce. Unique algorithms assess candidate experience, skills and cultural fit offering both an expectation candidate experience and effective recruitment outcomes.
Sign up for a Talentprise account today to get immediate access to this tremendous talent sourcing experience.