If you are in the job market and interested to know more about UX designer jobs, this article serves as a comprehensive guide for you.
A UX designer is a person who creates the user experience of a product or website. They think about how people will interact with it and ensure that it is easy to use and understand.
One of the most common tasks for UI UX designers is optimizing a website so that it has an intuitive, enjoyable, and easy-to-use interface. Their responsibilities include studying which pages are visited most frequently, which information most visitors are looking for, and which functions they need easy access to. UX designers will then create a user experience that puts all these aspects within easy reach in as few clicks as possible.
Who Do UX Designers Work With?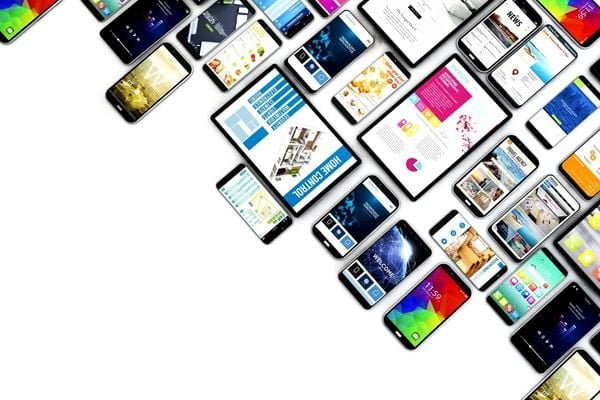 UX designers work with a wide range of people in the tech world from product managers to engineers and researchers. They also work with their clients, helping them determine which features they need in their products and services.
Below are some examples of people UX Designers work with:
Project Managers
Product managers define the product's vision and create a plan that describes how features will be implemented.
Project managers can engage UX designers to conduct market research, user research, ecosystem definitions, and personas.
Developers
There are many types of developers.
Front-end developers are responsible for the interfaces that users navigate. Back-end developers work on the part of a computer system that performs tasks, processes data, or provides services. They ensure that the internal workings — such as databases and servers — run smoothly. A full-stack developer works on a program's front and back end.
Quality Assurance
QAs are responsible for testing the product to identify bugs or flaws and validating if what was built matches its design specifications.
The QA and UX designer must consider the design from different aspects. A QA flags anything the UX designer might have missed and a UX designer improves anything that may be confusing or complicated for users.
What Do Typical UX Designer Job Descriptions Look Like?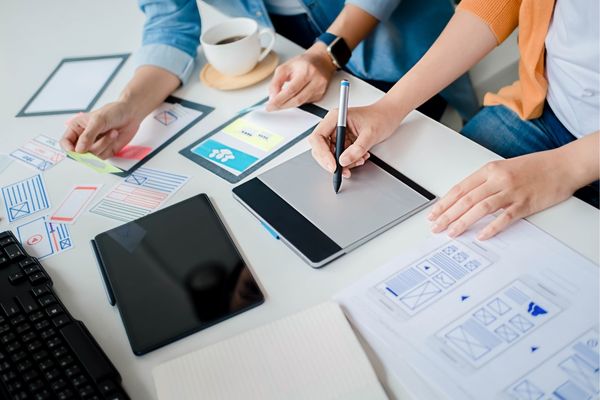 UX designers optimize web applications to improve ease of use and create the best possible user experience by experimenting with multiple solutions for each problem.
A UX designer might collect feedback from test users by conducting in-person interviews and focus groups. They then revise products following these findings until end users like and can easily navigate the final versions.
User interface (UI) designers have a similar role to graphic designers, but their focus is more on designing the presentation and interactivity of a product. Some roles require people who understand both user experience and design.
What Is the Average UX Designer Salary in The US?
UX designers are some of the most highly sought-after professionals in the tech industry.
A UX designer's annual average salary in the United States is $92,900. That's a pretty significant number with different components comprising it.
The first component of the UX designer's salary is base pay. This is the lowest amount you can expect to make in a year if you're just starting as a UX designer. If you've got experience, you should be able to negotiate a higher baseline rate.
The second component of the UX designer's salary is bonuses and commissions. Bonuses and commissions can be paid at any time during the year. They are usually tied to performance reviews and other accomplishments.
The third component of the UX designer's salary is benefits like health insurance, retirement plans, etc. This can vary significantly from employer to employer but they are included in most offers.
Where Can You Find UX Designer Jobs?
UX Designer jobs are everywhere.
If you're looking for a UX designer job, you can find one in almost any industry or field. You can get a job as a UX designer at an advertising agency, a software development company, or a university.
Knowing where to find these positions is essential when looking for a UX designer job.
Here are some online platforms where you can look for job advertisements and companies that are looking to hire one:
Indeed
With millions of monthly users, Indeed is a fantastic resource for finding UX Designer jobs worldwide. Indeed's search function allows users to narrow their job searches by date posted, developer type, skill level, and more.
The platform is also a fantastic resource for candidates who want to learn about companies before applying for or accepting UX Designer job offers. Job hunters can upload their resumes so that employers searching for specific qualifications will be able to find them.
Talentprise
Talentprise is an AI-powered talent sourcing platform. With more than 6000 recruiters worldwide use Talentprise to hire top talent for their businesses. Employers create AI headhunters that take inputs of the ideal talent and fetch top matching candidates.
It is a great tool for highly-skilled professionals who are looking to find full-time, part-time, or contract job opportunities either locally, or even globally.
As a job seeker, you can create your profile for free and complete all the necessary steps for your to join the talent pool. Talentprise offers job seekers the opportunity to get exposed to employers, recruiters, and headhunters all over the world, so if you are looking for a job, don't miss this opportunity and get started today.
Glassdoor
If you're looking for UX designer jobs, Glassdoor is a great place to start. You can filter your results by location and job title. If you know where you want to work or what kind of job title you're looking for, this site will help you narrow your search.
You can also find out which companies are hiring UX designers using the "Jobs" tab. The results include salary information and reviews from employees who've previously worked with the company.
LinkedIn
LinkedIn is a great place to find UX Designer jobs. LinkedIn's search function allows you to search for job ads by location, industry, and title so you can easily find UX Designer jobs near you or in the industry that interests you most.
Another great thing about LinkedIn is it's easy to set up a profile where recruiters can find you. All you have to do is fill in your work experience and education details, upload a photo, write a short bio explaining what kind of job type you're looking for, and then connect with people who can help you find your dream job.
Your Takeaway: Growing Industry and Demand for UX Designers
Unsurprisingly, the concept of user experience began with Don Norman from Apple. While anyone in tech can design an interface, a rich user experience can make a product or software a joy to use, create a memorable customer experience, and set it apart from the competition.
Most companies today recognize these benefits which is why UX design is the most in-demand job in design and planning. As of 2019, the number of opportunities for UX design went up by 30% — an optimistic figure by any measure.
About Talentprise